Dear all,
I have an extremely belated TUSAL post (don't ask by how much it is late ... dreadful). Note in the background my mum's orchid that has been moved into my room so it can get encouraged by other orchids to bloom. It now has 6 flowers (so the plan worked), and is one of 5 flowering orchids at the moment (2 of which were bought so probably should not be counted).
#1-#5 and #6 in front
2014 so far!
The purple one I mentioned in earlier posts has had an extra flower and still going strong after 2 months of flowering. I own an orchid in a similar colouring to mum's and it has now 2 flowers (almost 3). The baby has now a spike too! It would be very exciting to see its flowers (I don't even remember what colour that particular orchid is). So fingers crossed that the process goes well all the way. The parent looks a little worse for wear, but its roots keep coming out in all wrong spots (it likes to grow them into the plastic support), so I think its getting better.
Two of my other flowing orchids (yellow/peach is my relatively recent half price purchase from tesco and purple was bought about a year ago and has only just been nursed into flowering state again):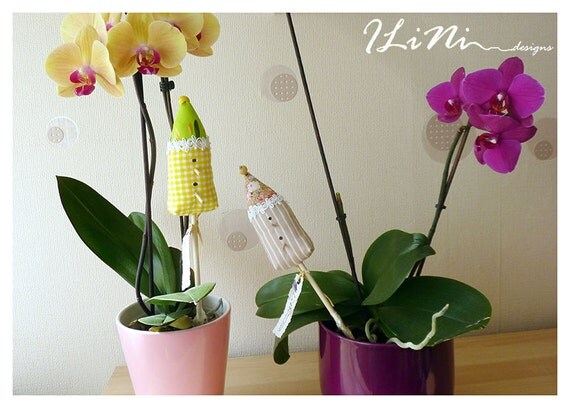 Orchids posing with bird houses for Etsy
I can't believe that two months ago I cut off a spike from the only blooming orchid I had (still no spike but a new leaf beginning to form), and now three other ones have blossomed (+ 2 new flowering additions).
Speaking of bird houses and Etsy. I want one for my room. Need to find perfect fabric. It will be so handy. The yellow/peach orchid is right in front of me on the desk and if I had the bird house in it I could put the pins there any time I needed to instead of attempting to find the pin box.